Moses (and friend Clancy) sat down at the Superstars Writing Seminars with sensational bestselling author Sherrilyn Kenyon. With more than 30 million copies in print, Kenyon writes for five of the major publishers and is no stranger to the New York Times Bestseller list. In this interview, Kenyon explains why paranormal romance is popular (this is for us space opera loving males in the audience), why all of her characters are sympathetic, growing up in the South, her writing schedule, and much more.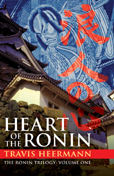 This episode is brought to you by Heart of the Ronin, a novel by Travis Heermann. Ken'ishi is just 17 years old and an orphan after the mysterious death of his parents. He dreams of training with a master who will some day help him become a samurai. Traveling with Silver Crane, a sword that belonged to his father, and a dog, Akao, for a sidekick, Ken'ishi's adventures begin after he murders a policeman and must flee. Just when he thinks he has escaped trouble, he saves Kazuko, the daughter of an influential lord, from a group of bandits. In return, he is asked to live in the lord's house, where he falls in love with Kazuko. Forced to flee once again, Ken'ishi goes on a hunt to discover his past while fighting off warriors and demons, not to mention worrying about the bounty that's on his head. Will he find out if his father really was a samurai or why the sword he wields seems to be infused with magic? Read the novel and listen to the podcast on Podiobooks.com.
Show Notes:
The boys discuss Borders, wondering how the struggling Bookselling Giant will effect authors and publishers. Here is the article from Locus Magazine, and here is the list of Borders to be closed
Ask a Writer is back with Tobias S. Buckell. Today's question comes from Dale, who asks about creating similes and comparisons from an alien viewpoint while still relating to a modern, and very much human, audience.
Feedback: Doug weighs in on our discuss of Heinlein's Third Rule of writing.
Podcast: Download (Duration: 1:00:35 — 41.7MB)