Howard Andrew Jones, author of The Desert of Souls and Managing Editor of Black Gate Magazine, discusses historical fantasy, fresh perspective, the long path to publishing, building community with other writers, the future of Black Gate, and, of course, magic carpet rides. Then, Lou Anders returns to The Editor's Desk to answer a listener question about what editors and agents look for in an author.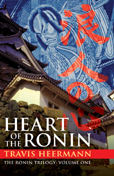 This episode is brought to you by Heart of the Ronin, a novel by Travis Heermann. Ken'ishi is just 17 years old and an orphan after the mysterious death of his parents. He dreams of training with a master who will some day help him become a samurai. Traveling with Silver Crane, a sword that belonged to his father, and a dog, Akao, for a sidekick, Ken'ishi's adventures begin after he murders a policeman and must flee. Just when he thinks he has escaped trouble, he saves Kazuko, the daughter of an influential lord, from a group of bandits. In return, he is asked to live in the lord's house, where he falls in love with Kazuko. Forced to flee once again, Ken'ishi goes on a hunt to discover his past while fighting off warriors and demons, not to mention worrying about the bounty that's on his head. Will he find out if his father really was a samurai or why the sword he wields seems to be infused with magic? Read the novel and listen to the podcast on Podiobooks.com.
Show Notes
News: Amanda Hocking is signing a massive book deal with St. Martin's Press, and Barry Eisler, successful author of thrillers, has turned down a publishing deal in order to self-publish. The number are STAGGERING!
We asked you, the best audience in all of podcasting, a special literary question, and boy did you respond: If you could be any character from a SFFH novel for just one day, who would you be, and why? We hope we didn't miss anyone's response, but please leave more answers on this page. This was a lot of fun, and we plan to pose more such questions.
We hope everyone enjoys the new music. It took Shaun a long time to find something that seemed to fit the new energy of the show. Special thanks to Shaun's wife for voicing the introduction and the outro.
Podcast: Download (Duration: 55:03 — 37.9MB)